Queenscliff Maritime Museum
Located on the corner of Wharf Street and Weeroona Parade at the entrance to Queenscliff's marina and see ferry precinct is the Queenscliff Maritime Museum.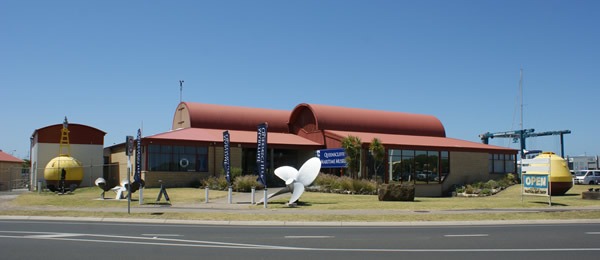 Open 7 days the museum offers an interesting and entertaining insight into all things marine with some very interesting displays covering all aspects of boating including fishing, naval, commercial shipping, sailing and of course the famous Queenscliff Sea Pilots.
There are several exhibitions dealing with the treacherous rip and Port Phillip Bay including some artefacts taken from shipwrecks in the nearby waters including the SS Time which was stranded in 1949. There are quite a few military items. With Queenscliff having being a major military installation there are some very interesting naval items including a torpedo from the HMVS Lonsdale. The actual vessel, which was built in 1993 in England is partly buried in the grounds of the museum and protected by a Victorian Heritage Act.
The museum is home to the Lifeboat Queenscliffe which was built in Adelaide in 1926 and now takes centre stage in the exhibition. This vessel served for 50 years and had come to the rescue of many a vessel in trouble in and outside the heads. The Queenscliff is beautifully restored and on display showing here former glory. There is a large exhibition featuring lifesaving equipment which includes many pieces of equipment which was actually used saving lives off the Queenscliff coast.
Lighthouses are another important maritime safety necessity and the Queenscliff Maritime Museum has a large collection of items including some very impressive lenses and prisms, they also have some very interesting information panels on the lighthouses in and around the region. The museum even offers special tours of some of the townships lighthouses with pre booking.
The walls of the museum are laden with some amazing nautical photos, pictures and diagrams. There are stories from sailors, immigrants and people who experienced life on the sea over the years, you can spend quite a bit of time studying these items and trying to understand the hardships and situations these brave people faced.

One very interesting exhibit is a hydrographical model of the rip. The rip is one of the world's most dangerous and challenging pieces of water and this 3 metre square exhibition gives you a real understanding of why it is so dangerous and shows in three dimensions the navigational challenges.
[Map Popup name="Queenscliff Maritime Museum" street="Weeroona Parade" location="Queenscliff" phone="03 5258 3440″ lat="-38.26465626001458″ long="144.6671754645053″]