Queenscliff Sorrento Ferry
The Queenscliff Sorrento Ferry is a ferry service running between the two heads of Port Phillip Bay linking the Mornington Peninsula to the Bellarine Peninsula.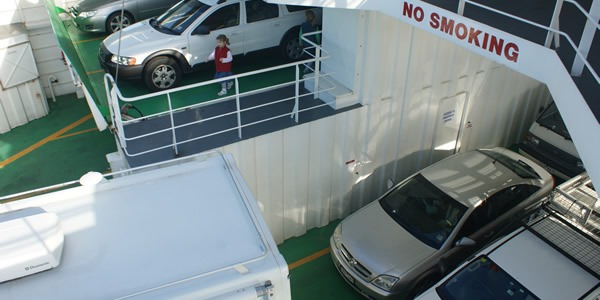 The ferry service takes around 40 minutes to make the crossing from Queenscliff to Sorrento, a trip that would normally take over 3 hours if you were to take the long way around via Melbourne. Two ferries known as the MV Queenscliff and MV Sorrento are used on the service travelling back and forward on the hour to these two popular holiday destinations.
The ferry service began in 1987 with only one ferry called the Peninsula Princess, by 1993 the service was so popular a larger ship, known as the MV Queenscliff, took over the route. By the year 2001 the service was so popular that the MV Queenscliff was supplemented by a sister ship known as the MV Sorrento. While both ships look almost identical from a distance, the newer MV Sorrento had an advantage over the MV Queenscliff with a few extra facilities like a lift and a fancier interior until the 2011 off season when the MV Queenscliff entered dry dock for a $2 million refit. While the MV Queenscliff was having a makeover, the Peninsula Princess was called out of retirement to take her place for a few months.
On the Sorrento side of the bay the ferry terminal is around a 500 metre walk to Sorento's main street where you can enjoy a great lunch at The Continental Hotel or one of several cafe's and restaurants. The Hotel Sorrento is even closer and a bit north of the ferry terminal and is an outstanding heritage building overlooking the bay.
Queenscliff's city centre is just under 1 klm from the ferry terminal and attractions like Fort Queenscliff, the Bellarine Peninsula Railway and the Queenscliff Maritime Museum are all easy to get to on foot. Plenty of cafes and pubs are also located in Queenscliff with the magnificent Vue Grand, Royal Hotel and Queenscliff Hotel invoking the spirit of Victorian times.
One popular day trip is to take your car over on the ferry one way and return via the long way round taking in the sites of both the Mornington and Bellarine Peninsulas.

The Queenscliff Sorrento Ferry operates 365 days a year on the hour from 7am to 6pm with an extra 7pm service from late December to early April. At the time of writing fares for foot passenger was $10 for adults and $8 for children. Vehicle pricing varies between $48 and $54 depending on if it's the high or low season, for full details on timetables and fares check out the Searoad Ferries website below.
[Map Popup name="Queenscliff Sorrento Ferry" street="1 Wharf Street East" location="Queenscliff" phone="03 5258 3244″ lat="-38.26569710458844″ long="144.6718483474079″]