Bells Beach
To the rest of the world, with maybe the exception of Sydney's Bondi; Bells Beach is probably Australia's most famous beach and is regarded as one of the world's best surf beaches.
Bells Beach is located about 29 kilometres to the south from the centre of Geelong, and about 7 kilometres to the south west of Australia's surfing capital Torquay towards Anglesea.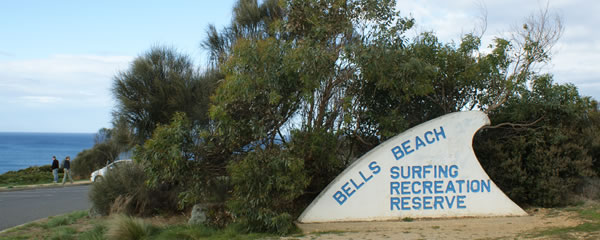 Bells is best known for its excellent breaks and being home of the Rip Curl Pro which happens every Easter and has done so since 1961. Here the world's best surfers, now both men and women, battle it out for one of the most prized surfing trophies on the planet. The event is the regarded as the longest running professional surfing event in the world. The high cliffs offer a spectacular amphitheatre for the thousands of spectators who attend the event to watch their surfing heroes.
Many visitors expect to find retail outlets, or tourist facilities but Bells Beach has none of this. Bells is basically only a beach in a beautiful natural setting, with a large car park which leads to steps down a cliff face onto the sandy beach. There is really only a surf beach to see, but it is quiet breathtaking and stunning offering spectacular views over the rugged Southern Ocean. With the natural environment and eco system around the beach so important there has been controversy and debate in recent years on how to best accommodate the needs of the surfers, tourists and visitors without affecting the environment.
The surf is at its best when the swell angle comes from the south west, making Winter and Autumn often the best times for surfing at Bells Beach, many people regard the surf best on the rising tide just after mid tide. Like all surf beaches along our beautiful coastline Bells Beach can be very dangerous and only a very experienced surfer should venture into the often treacherous surf. Hundreds of people are rescued from our beaches every year and many lives have been lost, many of them being tourists.

Close to Bells are many of the Surfcoast's other fine surfing spots including Southside, Rincon, Winki Pop, Steps, Boobs and Jan Juc which is joining the ever increasing Torquay residential sprawl.
Interestingly Bells Beach featured in the story line of the 1991 film Point Break starring Patrick Swayze and Keanu Reeves. The beach used in the film was in fact a beach in Oregon USA and had no resemblance to that of Bells which is lined with small bush scrub instead of the high spruce trees that the film featured.