Torquay – A brief history
The Wathaurong people inhabited the lands around Torquay for centuries before the first Europeans visited the area in the early 1800's
Robert Zeally who now has Torquay's bay named in his honor was one of the first settlers to the area. He took up land around 1851. The area was nothing much more than a place to picnic and then in the 1870's some settlement started, with several people settling at Spring Creek, which was also the name of the township. Land was subdivided by the lands department in 1886 and the name was changed to Torquay in 1892 after Torquay a popular holiday resort town after the holiday resort in Devonshire England.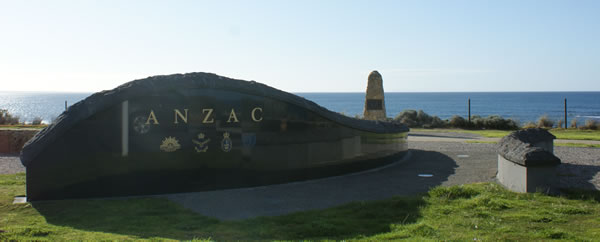 The Post Office opened on in August of 1894 and a bridge across Spring Creek gave easier access to towns further down the cost including Anglesea.
1891 saw tragedy off Point Danger on a nasty reef, when the sailing ship the Joseph H Scammell broke up in the heavy seas. Much of the cargo was washed up onto the beach and looted. Today the anchor of the Scammell stands as an eerie monument at the Torquay front beach. The coastline has reportedly taken over 15 ships between Torquay and Barwon Heads over the past 200 years. This wreck was responsible for the construction of the light house at Airey's Inlet to try and stop some of the tragedies.
In 1900 a primary school was opened along side the newly-built Presbyterian Church in the community hall. A permanent school building was opened in 1910. Then other town facilities started to pop up including a bowling green, tennis courts and a golf course which were opened by the 1920s.
With car travel becoming popular in the 1920's Torquay became a very popular holiday and day trip destination- and in the 90 years since has never looked back.
The Torquay Surf Life Savings Club was formed in 1946, it is the oldest and largest club in Victoria and one of Australia's best respected. Their clubrooms were opened in 1971 after their original burnt down.
Bells Beach held its first Surf Classic in 1961. It is now the world's longest running surfing competition – the Rip Curl Pro Surf attracts the world's best surfers every Easter.
Ripcurl now one of the world's great surf brands started in Torquay in 1969 when Alan Green moved to town and started making wetsuits and other clothes in a old bakery. He then went onto make another huge international surf brand Quicksilver with his friend John Law. Ripcurl and Quicksilver still operate in Torquay and have huge stores in the Surfcoast Plaza complex.

The 1980's saw the beginning of the boom to hit Torquay which is still gathering momentum. The surfing industry expanded offering employment manufacturing and at the huge surf retail complexes. Today Torquay is one of the most popular places to move to in the region. The rolling hills of Torquay are rapidly changing from fields to huge housing estates.