Werribee Open Range Zoo
In as little as 30 minutes you can be in the middle of Africa's savannah from the centre of Geelong. No our Avalon Airport is not offering supersonic flights quiet yet, it's the open range zoo at Werribee.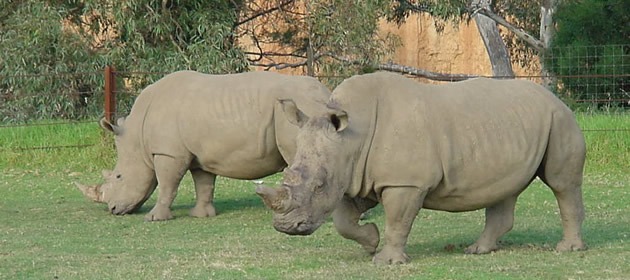 The Zoo is one of the region's most popular attractions and is an amazing chance to get up close to many of the magnificent animals of Africa without cages and pens between you and them. The zoo is open range, so animals are able to roam freely in open grassland and behave just as they do in the wild.
The zoo has a amazing collection of animals, there beautiful giraffe and zebras sharing their grasslands with some mighty rhinoceros. The zoo has a very special collection of Southern White Rhinos which are under threat in the wild. The zoo also has a huge waterland area complete with huge hippopotamus who wallow in the large pools. There are five hippos, including Lotus who was born at the zoo recently.
Lions and African Wild dogs are newer exhibits to the zoo which are becoming a real hit with visitors but the best is yet to come. Gorillas are heading to Werribee Zoo. Work is currently underway to build a huge home for some of Melbourne Zoo's gorillas. The home will be for three gorillas, Motaba, Yakkini and Ganyeka who will make Werribee their home shortly.

Some of the zoo can be explored on foot, but there are vehicle excursions to the grasslands to get up close to the larger animals in an amazing up close adventure. Don't forget your camera as you really can't get any closer to these magnificent animals.
The admission to the zoo features a 45 minute guided safari tour which is an abolute treat, and a great attraction for people who dont have too much mobility but want to enjoy the animals. The zoo offers plenty of special packages and specially tailored excursions many of them educational. They also have a full calendar of entertainment and functions, but for something really different the Zoo offers special accommodation packages where you can actually sleep out in the zoo, and it feels just like on safari in Africa with the unique smells and sounds.
[Map Popup name="Werribee Open Range Zoo" street=" K Road" location="Werribee South" phone="03 9731 9600″ lat="-37.92287232671048″ long="144.667640801347″]