Werribee Park Mansion
Werribee Park Mansion is one of the state's most grand residences. Its grounds are home to a host of attractions including the Werribee Open Range Zoo, with its roaming rhinoceros, giraffe, and hippos.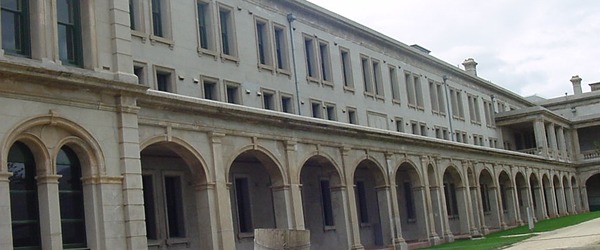 The mansion was built by the Chirnside family who were rich pastoralists that had land stretching much of the region. It was built between 1874 and 1877 in a very ornate Italianate style. The magnificent sandstone building features sixty rooms and has been painstakingly restored over the past few decades to include many of the Chirnside's actual items like furniture, clothing etc.
The grounds are used for many functions and events during the year including the harvest market. Recently large scale concerts have also been held on the lush lawns including Elton John performing there in 2007. There is so much to see in the grounds including a very innovative sculpture walk which takes in 29 very interesting artworks.
The grounds are also home to the Victoria State Rose garden which contains over 250 different types of rose. This free attraction also features over 60 Australian bred varieties of the flower, making it a very unique garden. For garden lovers the greenery doesn't stop here, there is also a magnificent heritage orchard where special old time stock is grown including peaches, grapes, apples, pears and walnuts. Over the past few years with the partnership of Parks Victoria this orchard's potential as a heritage garden has been seen. Work is being undertaken by many supporters to help these rare old breeds survive in today's homogenised world.
The National Equestrian Centre is also on the mansions grounds, this international standard facility hosts some of the country's best equestrian events, horses and riders. It also hosts polo matches attracting some of the world's elite to the park.
Shaddowfax Winery is another attraction on the grounds; this award winning winery produces lovely premium wines. The winery opened in 1999 and offers tasting and cellar door sales

Beautifully blended into the back of the mansion is the Mansion Hotel and Spa, this place is sheer indulgence and offers 91 luxury guest rooms with all the trimmings. The hotel is surrounded in over 10 acres of lush English formal gardens. The hotel features Joseph's Restaurant which is well regarded as one of the finest restaurant in the region, it has an amazing European menu and over 200 different wines.
[Map Popup name="Werribee Park Mansion" street="K Road" location="Werribee South" phone="03 8734 5100 " lat="-37.93106382029131″ long="144.6699578223278″]